Published: Sep 4, 2019
Last Updated: Sep 4, 2019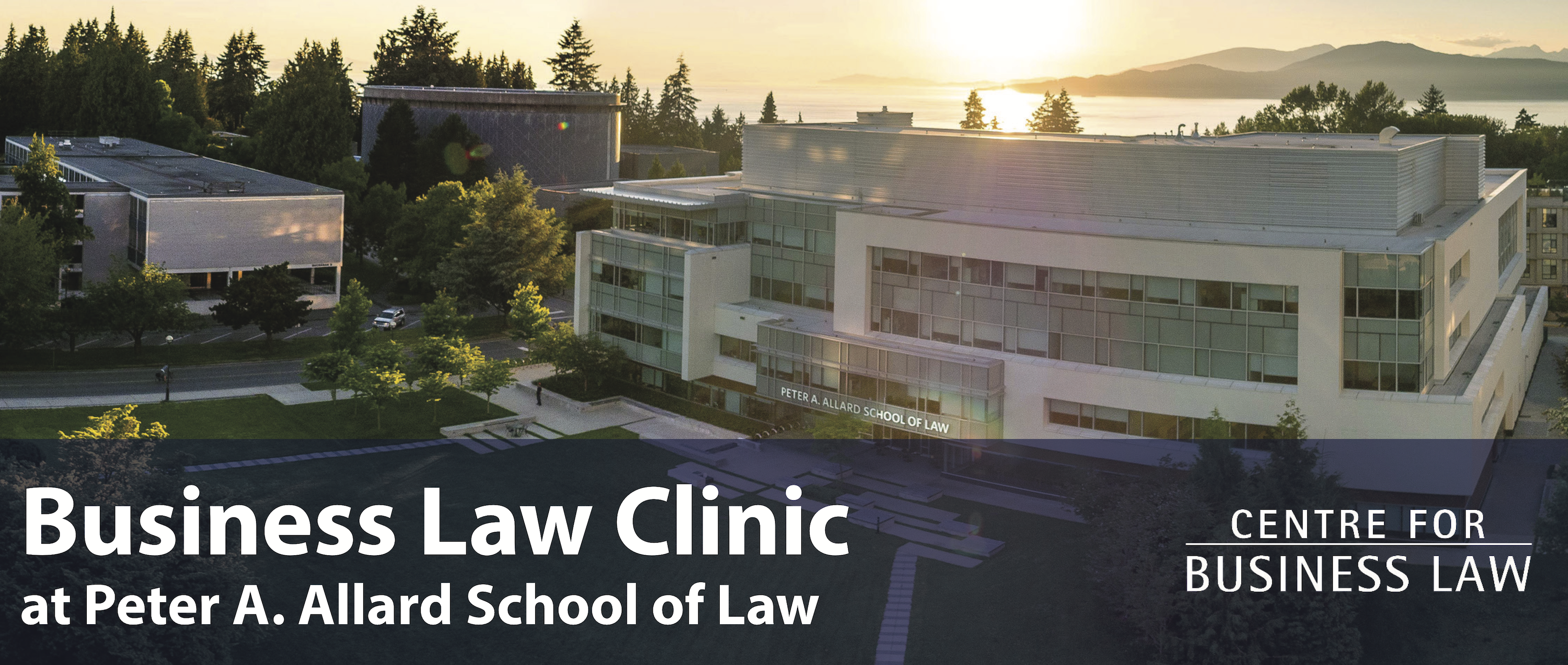 We are delighted to feature another guest blog from our colleagues at UBC's Business Law Clinic.
Free Business Oriented Legal Services at UBC: Three Years Later
What is the Business Law Clinic?
If you are a small business owner, an entrepreneur, or part of a non-profit organization, you may have faced situations or come across documents that have made you pause and ask yourself, "should a lawyer look at this?" At the same time, you may not be able to afford legal advice from a law firm. For those who live in British Columbia, require legal advice, can come to the University of British Columbia's Vancouver campus, and have limited means, the Business Law Clinic (the "Clinic") may be able to help.

The Clinic serves two purposes. The first is that it provides business-oriented legal advice to small businesses, entrepreneurs, non-profit organizations, and individuals who cannot otherwise afford legal advice. Under the supervision of a practicing lawyer, law students deliver assistance at no cost and expand access to legal services for a range of business and non-profit organizations, from start-ups to established organizations. The second is its academic purpose. The Clinic provides sixteen law students (eight per academic term) with an opportunity to use their substantive understanding of business law in a clinical setting for the benefit of the public. This setting offers students a unique opportunity to develop a number of practical and legal skills and responsibility.

Thanks to pilot funding by the Franklin Lew Innovation Fund and a generous funding commitment from alumnus Robert P. Pirooz, Q.C., the Clinic has been successfully operating out of the Centre for Business Law at the Peter A. Allard School of Law since January 2016.


Since its inception, the Clinic has had a diverse set of clients. Clients have been involved in technology, sports and recreation, arts and culture, production and retail, and more. Though a majority of the clients have been businesses, approximately a quarter of clients have been non-profit organizations. Additionally, the Clinic has served clients all over British Columbia. Over 75% of clients are from the City of Vancouver, but the Clinic has served clients in Burnaby, Maple Ridge, Surrey, Squamish, and even Interior B.C. We are proud that the Clinic has been able to help clients in underserved areas, and we hope to continue serving clients over British Columbia.
Our Services
The Clinic may assist clients with the following:
Answering general legal questions regarding small business or non-profit matters
Reviewing an existing contract or lease and explaining what it means to the client
Explaining the difference between various business structures including a sole proprietorship, partnership and corporation
Other business oriented legal advice related to a client's unique legal issue
The Clinic may draft legal documents, including:
Constitution, by-laws and incorporation forms for a non-profit society
Articles, resolutions, registers and share certificates for a private company
Partnership Agreements
Non-competition Agreements
Confidentiality Agreements
Supplier Agreements
Offers of employment
Privacy Policies
Other documents as determined by the supervising lawyer
If the Clinic cannot assist you with your situation, we will refer you to other organizations that may be able to help
Who Gives the Advice?
When clients first meet with a clinician, a law student, the clinician will gather as much information as possible about the legal issue. Clinicians do not provide legal assistance during the first meeting. The clinician will review the information with the supervising lawyer, Ryan J. Black, Partner, McMillan LLP and determine the next steps, which may include legal advice. All legal advice given to a client will have the supervising lawyer's approval.
How to Get Assistance
The Clinic operates during the law school's academic year, which consists of two terms: September to December and January to April. However, the Clinic accepts applications year-round.

If you are interested in applying to become a client, please fill out the online application form.

Please note: due to the nature of the Clinic being offered on a term basis as part of an academic year, the Clinic is not appropriate for matters that require a fast turnaround time or are otherwise time-sensitive. Clients must be comfortable that deliverables are produced over the course of an academic term and are subject to the rigours of an ongoing education.
Questions
If you have any questions, you can get more information on our website. Otherwise, you can email the Clinic at blc@allard.ubc.ca.