Published: Jul 10, 2013
Last Updated: Apr 27, 2017
Craft breweries and microbreweries produce beer in limited quantities when compared to large breweries (generally under 10,000 barrels per year) and usually distribute their beer within a limited geographic region.
Craft breweries often specialize in specific styles of beer, and focus on providing customers a superior product, using traditional brewing techniques. Certain craft breweries sell beer directly on their premises, and are called brewpubs. Craft breweries are known to develop clever marketing strategies with limited budgets in order to connect with their target markets.
Industry Overview
BC
In 2009, 209 breweries were identified by Statistics Canada and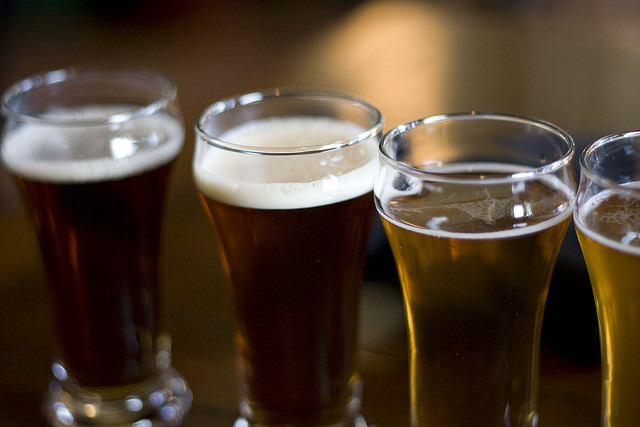 49 of those establishments were located in British Columbia. However, an article by The Province estimates that by the end of 2013 there will be more than 60 independent breweries (this number includes microbreweries, nanobreweries and brew pubs). This increase in breweries is mirrored by an increase of 6.4% of microbrewery beer sales in British Columbia in March 2007 to 12.7% in March 2011. In the last two years, this number have only grown. In an article published July 3, 2013, The Province asserts that craft beer is almost at 20% of the market share for beer in British Columbia, while BC Business cites the Craft Brewers Association of British Columbia in stating that the market share is currently around 15% but that many brewers are experiencing sales growth between 15 and 20% per year.
Canada
According to Agriculture and Agri-Food Canada in their report, The Canadian Brewery Industry, approximately 10 million Canadians drink beer and the sales of goods manufactured by the Canadian brewery industry in 2009 were worth $4,671.2 million. The Brewers Association of Canada states that beer brewed in Canada accounts for 1.2% of Canada's GDP, 190,000 direct and indirect jobs and $4.3 billion in tax revenue. Approximately 13,000 people work directly for breweries in Canada according to the Brewers Association of Canada and they estimate that "employee salaries, national distribution and retailing networks and industry sales and marketing support generate $818 million in salaries and wages to brewery employees". Canadian brewers also buy one-third of the malting barley that is sold domestically which contributes to other segments of the economy.
Industry Trends & Challenges
There has been a shift in consumption from imported to the less expensive domestic beers over the past years. During the same period there has been a move away from "brand name" beers in favour of beers made by microbreweries which represent more of a niche or specialty market. This trend is also reflected in declining sales for national beers while locally brewed beers have experienced increasing sales numbers (however, this trend is not new as it is how many of the national beers rose to prominence). Some other trends being forecast for this industry are: an emergence of gluten free beers made by microbreweries, national breweries like Molson and Alexander Keith's creating their own craft beers and increasing numbers of estate breweries (breweries based on farms using their own or local ingredients).
One challenge this industry faces is that there are no import duties on foreign beer. Another major challenge is that of increasing energy costs which can offset gains in a brewery's productivity. Water consumption is also a challenge for brewers as it can take five litres of water to produce a litre of beer. However, by reducing water use there is the potential for brewers to reduce their costs. Finally, in British Columbia many of the liquor laws have been seen as a hindrance to craft breweries success as they have prohibited breweries from establishing on-site lounges and selling their beers in their own pubs. These challenges may be becoming a thing of the past though as Vancouver has just passed changes to zoning laws which now allow breweries to set up lounges and serve beer.
Below are some resources to help you get started on your business research:
Associations
Brewers Association of Canada
Craft Brewers Association of British Columbia
Brewing and Malting Barley Research Institute (BMBRI)
Magazines & Trade Journals
Beer Advocate Magazine
Brewing Techniques
Draft Magazine
Directories
B.C. Business Network
Canadian Companies Capabilities
Frasers (Product and Services Search - Brewery)
ThomasNet (Directory Search: Product/Service - Brewery)
BCBusiness Guide to Breweries Around B.C. (interactive map)
Suggested Search Terms
Beer -- Handbooks.
Brewing -- Handbooks, manuals, etc.
Brewing industry.
Microbreweries.
Additional Resources
If you want to access more resources, the Craft Brewery / Microbrewery Accelerator Guide is designed to help prospective and existing brewery owners gather information for their secondary market research. The guide is broken down into four main sections that cover how to start your research, industry information, competitive information and customer information (depending on your needs you can spend as much or as little time as necessary in each section).
If you find that you need more guidance before starting your secondary research, check out our Business Research Basics Guide, it will help you focus on what types of information you will need to gather and why it is important.
PHOTO CREDIT: Beer Sampler, created by J R on October 9, 2009. Image made available under Attribution 2.0 Generic license. Last viewed on July 10, 2013.
PHOTO CREDIT: Granville Island, created by Hideyuki KAMON on February 6, 2009. Image made available under Attribution-ShareAlike 2.0 Generic license. Last viewed on July 10, 2013.