Published: Jan 7, 2015
Last Updated: Oct 23, 2017
January not only marks the start of a new year in 2015, but also is the time of year that surrounds us with great new films.

In celebration of Canadian films at TIFF's Top Ten Film Festival earlier in January, and in anticipation of the upcoming Victoria Film Festival in BC and the Academy Awards in February, we wanted to focus on the state of the film production industry. Film production includes all aspects of creating a feature film, including casting, filming, set building, distribution and post-production, and is many times grouped with television production, and sometimes even grouped more broadly with other creative cultural artifacts like music, books and interactive digital media.
Film Production Industry Overview
BC
British Columbia represents a very active part of Canadian film production. According to the Canadian Media Production Association (CMPA), when focusing on foreign location and service (FLS) film and video productions, BC represents 62% of projects (CMPA, 2013 Profile). Television series in the FLS sector accounted for more than half of BC productions, indicating a significant shift towards television production and away from film. Indeed, production of FLS television series increase 37.8% to a ten-year high of $969 million in total volume. British Columbia has a robust system of tax incentives in place, enjoys the same time zone as Hollywood and is home for a strong film infrastructure, keeping the province attractive to Hollywood production companies, with Vancouver earning the name of "Hollywood North" (Vancouver Economic Commission).
Canada
In Canada, most of the businesses associated with the film and video production industry are micro or small businesses (1-100 employees), comprising of 98.9% of all production businesses according to Canadian Industry Statistics (2012). According to the CMPA 2013 Report, Canadian film and television generated $3.5 billion GDP for the Canadian economy and created 58,700 direct and indirect jobs. This was down slightly from the 2011-12 year, although that year showed an all-time high for film and video production. Most of the Canadian-produced film projects are done in the provinces of Ontario (46%) and Quebec (42%), followed by British Columbia.
Industry trends and challenges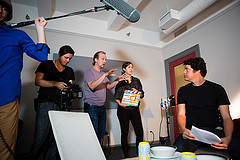 Trends varied depending on whether the production was Canadian or foreign based. For Canadian productions, television projects experienced a big decrease, while theatrical feature film production enjoyed a 3.2% increase. However, when looking at the FLS sector, television series production hit a ten-year high (CMPA 2013 Report).
Another notable trend is the continued growth in a subsector dubbed by the CMPA report as Convergent Digital Media production. As a sign of the continued development of digital technologies, there are more and more tangent efforts within television production projects to enhance their reach, including websites or mobile apps. Furthermore, there is also an increasing trend for viewers of television and film to access content through the internet, with sites such as Netflix being used by 20% of Anglophone Canadians (CMPA 2013 Report).
The industry of media production is becoming more integrated and consolidated in British Columbia. Voiced concerns at an industry event in North Vancouver indicated a desire to have "one voice" for all creative agencies (Vancouver Observer, 2013). The provincial government responded and in 2013 it announced the intended merger of The BC Film Commission and BC Film + Media into one umbrella agency, Creative BC. Since the CMPA report cited the highest increase in production was within animation, this merger puts BC in a strategic spot to further the integration between technology and media production.
Top resources to help get you started on your business research
Associations
Canadian Media Production Association
Cineworks
Creative BC
Directors Guild of British Columbia / Directors Guild of Canada
Magazines & Trade Journals
Filmmaker Magazine
Montage
Playback
Reel West Magazine
Directories
Canadian Companies Capabilities – Motion Picture and Video Industries
Directors Guild of Canada's Directory
Reel West Digest
Western Filmmaker Film Directory
Suggested Search Terms
"film industry" + Canada
"film industry" + "British Columbia"
"film production"
"media production"
Additional Resources
If you want to access more resources, the Filmmaking Business Accelerator Guide is designed to help prospective and existing brewery owners gather information for their secondary market research. The guide is broken down into four main sections that cover how to start your research, industry information, competitive information and customer information (depending on your needs you can spend as much or as little time as necessary in each section). Also check out the related Video Production Accelerator Guide.
If you find that you need more guidance before starting your secondary research, check out our Intro to Business Research Guide, it will help you focus on what types of information you will need to gather and why it is important.
---
PHOTO CREDIT: Photo Video Equipment Rentals at MEDIA ARTS Center in San Diego created by MASCD on December 30, 2010. Photo made available under a Creative Commons Attribution-NonCommercial 2.0 Generic license. Last viewed on January 7, 2015.
PHOTO CREDIT: VFS Summer Intensives 2014 created by Vancouver Film School on July 24, 2014. Photo made available under Creative Commons Attribution 2.0 Generic license. Last viewed on January 7, 2015.