Published: Aug 15, 2013
Last Updated: Apr 27, 2017
There seems to be a growing emphasis on the importance of including visuals with your online content. These visuals can take the form of infographics, videos or photographs and are often used to add context or additional information to the accompanying text. Infographics and videos often require significant amounts of behind the scenes work and are most effective when they have been created for a specific purpose or organization. Photographs are a little different in that they generally serve to enhance the content message and are easier to generate than a video or infographic. However, many of us don't have the time, expertise or equipment to go out and take high quality photos. That's where the sites listed below come in. They offer a wide variety of images which are mostly available to use free of charge.
bigfoto.com – Is a royalty-free photo agency offering free download of all pictures for personal and commercial use.
Dreamstime – This service offers a Free Images section where you can download high resolution Royalty Free stock images for free.
Everystockphoto.com – Is a license-specific photo search engine. Membership is free and allows you to rate, tag, collect and comment on photos.
Flickr – Offers a way to store, sort, search and share your photos online. Many of the images on are available for use under Creative Commons licenses and can be found using the advanced search function.
FreeMediaGoo – Provides a way for developers to gather free media that can be used both for commercial and personal use. The content is royalty free.
Freerange Stock – Provides free quality stock photos for commercial and non-commercial use. Download requires free membership.
FreeDigitalPhotos.net – Download free and premium stock photos and illustrations for business, personal and educational use. Every image is free, with an option to buy larger images at reasonable prices.
Freeimages – Is a high quality resource of digital stock photographic images. All images are free to use on websites, printed materials, etc…
PicFindr – Is a web app that searches the web for stock photos that are completely free to use commercially.
Public Domain Pictures – Offers royalty free stock photos. All pictures are free for commercial and personal use; however some images may require a model or property release.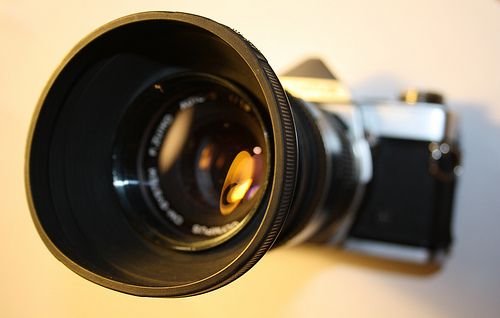 One important thing to keep in mind before you publish online any photograph not taken by yourself is: do you have the appropriate rights to do so? Checking the license on the photograph is the first step to answering this question. Creative Commons licenses are a popular way for creators to control the use of their photographs. (To learn more about the different types of Creative Commons licenses click here.) Checking the terms and conditions of the site where you found the image is another good step towards ensuring you are allowed to use the image. Or, if you still have doubts about whether you should use the image try contacting the creator directly to get their permission. Ultimately, if you are not sure whether you are allowed to use the image for the purposes you intend, you probably should not use it.
To learn more about Copyright in Canada click here.
What other resources do you use to locate images online? What are your search strategies for finding free photographs? What are some of the challenges you've encountered in your searches?
PHOTO CREDIT: Vintage Pentax Film Camera, created by genericface on March 5, 2007. Image made available under Attribution-ShareAlike 2.0 Generic license. Last viewed on August 15, 2013.
PHOTO CREDIT: Camera Lens, created by Elliot Bennett on November 8, 2011. Image made available under Attribution 2.0 Generic license. Last viewed on August 15, 2013.
---
The information contained here is intended as a resource for entrepreneurs in British Columbia who are creating a business plan and is for informational purposes only. It should not be considered as a substitute for legal, accounting or other professional advice. The Irving K. Barber Learning Centre at the University of British Columbia cannot be held responsible for any loss or damages resulting from the use of this information. You may want to seek advice from professional services to support your business planning efforts.