Published: Aug 22, 2018
Last Updated: Aug 22, 2018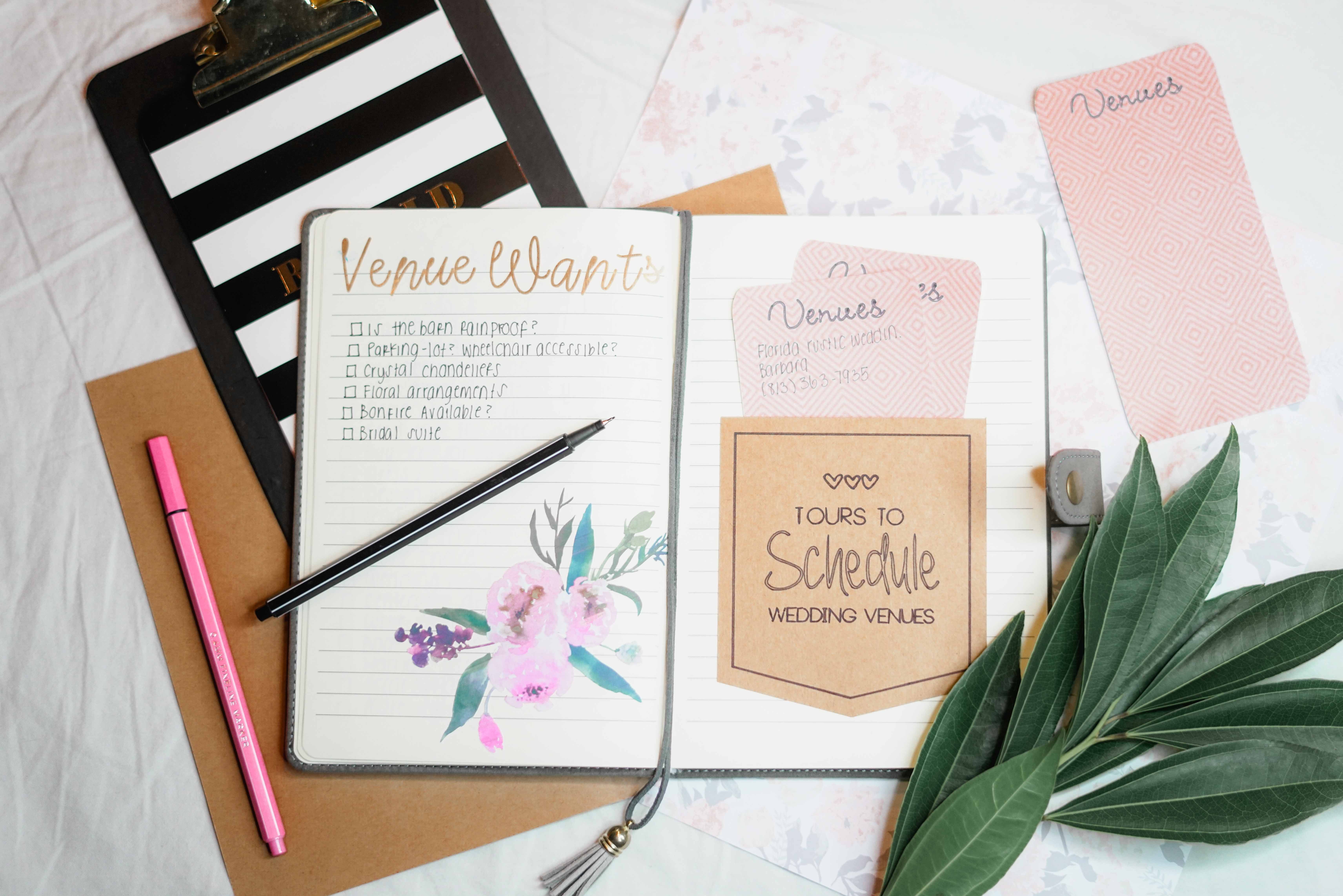 Event planners organize, execute, and promote events like trade shows, conferences, corporate meetings, and more. Event planning is a business with a low barrier to entry, so competition within the industry is high (Couillard, 2018). Factors that have a strong impact on the success of event planning businesses are personal relationships with customers, the ability to manage costs and contracts, and whether the event planner has the ability to manage the seasonal fluctuations of the industry (Couillard, 2018). This post will give you an up-to-date look at trends, challenges, and research resources, for those interested in becoming event planners or event planners who would like to gain a competitive edge.
Canada
As of 2017, there were 1,313 businesses in Canada categorized as Convention and Trade Show Organizers, the larger umbrella term which encompasses organizers, managers, and promoters of all type of events and meetings, with the notable exceptions of wedding planning services and live events such as concerts. For more information about wedding planning, please see our industry overview here or our industry guide to wedding planning here.
Statistics Canada. Table 33-10-0037-01 Canadian Business Counts, with employees, December 2017.
Statistics Canada. Table 33-10-0038-01 Canadian Business Counts, without employees, December 2017.
In 2016, this industry made a total of $620.3 thousand, with 80.8% of businesses reporting a profit. There was a net profit for the industry of $109.1 thousand (Statistics Canada, 2016).
British Columbia
As is visible in the table above, British Columbia has the third highest number of event planning businesses in Canada, with a total of 180 businesses. Of those 180 businesses, 41.1% have employees.
This number has increased by 1.1% since 2016, when there were 178 businesses. In 2016, 39.9% of those businesses had employees. 51.4% of businesses with employees were considered micro businesses, with between one and four employees (Statistics Canada, 2016). 42.8% were small businesses, with between five and ninety-nine employees (Statistics Canada, 2016). The largest event planning businesses in British Columbia fell into the medium business category, with between one hundred and four hundred ninety-nine employees; these accounted for just 5.7% of event planning businesses with employees in British Columbia, or 2.2% of the total number of event planning businesses (Statistics Canada, 2016).
Cost Breakdown of Event Planning Businesses in Canada
The chart below show a breakdown of how trade show and event planning in Canada spend their revenue in comparison to other industries in their sector (Couillard, 2018). The broad sector for this industry is administrative and support services, which includes things such as office administrative services, business support services, and travel arrangement and reservation services (Statistics Canada, 2017).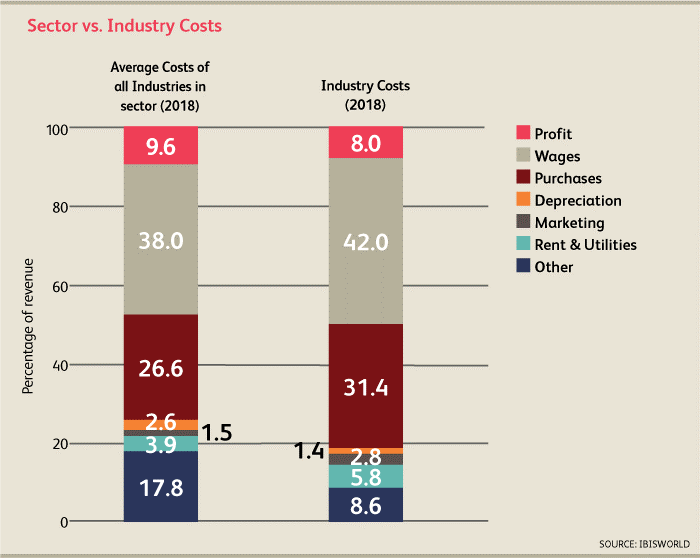 Industry Trends
This industry has low revenue volatility, despite the high competition levels (Couillard, 2018). Profit margins are expected to rise slightly in the industry over the next five years, in both Canada and the US (Couillard, 2018; Convention & Trade Show Organizers Industry (NAICS 56192), 2018).
Canadian Event Planning Industry Revenue Projection
American Event Planning Industry Revenue Projection

There is a strong trend towards the increased use of technology in this industry, with business operators needing to learn to use and develop mobile platforms, social media, and webinars to enhance client experience (Couillard, 2018).
As globalization continues, the event planning industry in Canada will likely reap some of the benefits, as Canada has become a more appealing locale to have multinational events due to the availability of large spaces and business expansion into Canada from foreign companies (Couillard, 2018).
Notable Industry Information
The most important success factors for those in the event planning industry are identified by Couillard's IBISWorld Industry Report (2018) as:
Maintenance of excellent customer relations
Management of seasonal production
Effective cost controls
Ability to manage external (outsourcing) contracts
Additional Resources
Below are some resources to help you get started on your business research.
Associations
Magazines and Trade Journals
Directories
If you would like to access more resources, the Event Planning Guide is designed to help prospective and existing event planning business owners gather information for their secondary market research. The guide is broken down into four main sections that cover how to start your research, industry information, competitive information and customer information. Depending on your needs you can spend as much or as little time as necessary in each section.
If you find that you need more guidance before starting your secondary research, check out The Beginner's Guide to Business Research; it will help you focus on what types of information you will need to gather and why they are important.
References
Convention & Trade Show Organizers Industry (NAICS 56192). (2018). United States Convention & Trade Show Organizers Industry Report, 1-196.
Couillard, L. (2018). Trade show & event planning in Canada (IBISWorld Industry Report 56192CA). IBISWorld Inc. Retrieved from http://clients1.ibisworld.com/reports/ca/industry/default.aspx?entid=1502
etouches. (2017). The best 2017 event trends you need to know. Canadian Special Events Magazine. Retrieved from http://canadianspecialevents.com/17192/the-best-2017-event-trends-you-need-to-know/
Statistics Canada. (2017). Table 33-10-0037-01 Canadian Business Counts, with employees. Retrieved from https://www150.statcan.gc.ca/t1/tbl1/en/tv.action?pid=3310003701
Statistics Canada. (2017. Table 33-10-0038-01 Canadian Business Counts, without employees. Retrieved from https://www150.statcan.gc.ca/t1/tbl1/en/tv.action?pid=3310003801
Statistics Canada. (2017). North American Industry Classification System (NAICS) Canada 2017 Version 2.0. Retrieved from http://www23.statcan.gc.ca/imdb/p3VD.pl?Function=getVD&TVD=380372&CVD=380374&CPV=561&CST=01012017&CLV=2&MLV=5
Statistics Canada. (2016). Financial performance – Canadian industry statistics. Convention and Trade Show Organizers – 56192. Retrieved from https://www.ic.gc.ca/app/scr/app/cis/performance/rev/56192
Statistics Canada. (2016). Businesses – Canadian industry statistics. Convention and Trade Show Organizers – 56192. Retrieved from https://www.ic.gc.ca/app/scr/app/cis/businesses-entreprises/56192