Published: Aug 4, 2015
Last Updated: May 12, 2016
Long gone are the days when libraries were physical spaces to house tangible books, a place where noise is considered a taboo because libraries are a serious place for serious people – not for "hanging out."  As we look around, we slowly realize that libraries have changed to accommodate the digital age. Librarians work in collaboration with their community and partners to build a central hub of information for everyone. "Everyone" includes the small business community as well. Entrepreneurs play a huge part in driving the economy and libraries are recognizing the need to promote and sustain entrepreneurship.
Here's how librarians can be your personal information business consultant in your present and future ventures.
Knowledge Creation
Libraries are a centre for knowledge. Both public and academic libraries have a broad range of sources for your entrepreneurial information needs. We are living in a knowledge based economy and secondary research is crucial in order to gain a competitive advantage. Librarians are skilled in knowing where to find resources, which saves entrepreneurs time and even potentially exposes them to some new useful information that they may not have been seeking in the first place. Some of the business resources librarians can direct you to include:
Lists of competitors
Library sources such as business databases, business plans
Industry research sources
While it is widely known that public libraries serve the whole community, it's important to note that business academic libraries do not limit their services to the students and faculty within their program, but often extend their support to community users as well.
Customization: Say No to Data Dumps
Google is a wonderful invention and it has become so embedded in our lives that it's become a transitive verb in the English language! However, as powerful it may seem, Google still has its limitations. When you do a conventional search, results usually range from millions of results. As entrepreneurs, the last thing on your to-do list is to spend hours skimming these articles for information that your business can use. Fortunately, librarians are trained to be expert searchers, having learned efficient strategies and are able to customize and curate content according to your query, narrowed down to the nitty-gritty.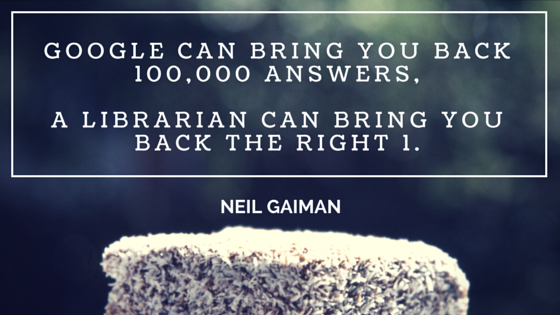 Networked within the Community
Most, if not all, libraries have created environments that foster entrepreneurship. These are not limited to entrepreneurship training seminars, experiential learning and sharing of resources. Being public institutions, libraries make partnerships with reputable organizations or other fellow entrepreneurs that might be of help to your business. For example, as a start-up, you might consider connecting with an organization that specializes in funding support. There are many funding options available you won't be able to find with just a Google search, librarians can help you boil down what your best options are. While librarians are not responsible for giving advice, they can connect you to the appropriate organizations that can give you further advice on your query (if it is of sensitive nature) or direct you to a library contact in their network.
Helping Foster the Entrepreneurial Spirit
They say "time is money" and budding entrepreneurs certainly don't have the time to be sifting through thousands of pages of data looking for information that may or may not help them with their research goals. Librarians, with their knowledge of tapping into the right resources, are always there to help identify your best options quickly and efficiently so you can focus on building your business.
---
References:
Haber, S. (2011, May 25). The Changing Role of Libraries in the Digital Age. Retrieved from http://www.huffingtonpost.com/steve-haber/the-changing-role-of-libr_b_80...
Policy Horizons Canada. (2013, July 28). Maximizing Canada's Engagement in the Global Knowledge-Based Economy: 2017 and Beyond. Retrieved from http://www.horizons.gc.ca/eng/content/maximizing-canada%E2%80%99s-engage...
Toronto Public Library. (2015). Small Business. Retrieved from http://www.torontopubliclibrary.ca/smallbusiness/
Photo credit: On the reference desk, created by radical.librarian on March 1, 2004. Image made available by Creative Commons Attribution 2.0 Generic License. Last viewed on Aug 3, 2015.