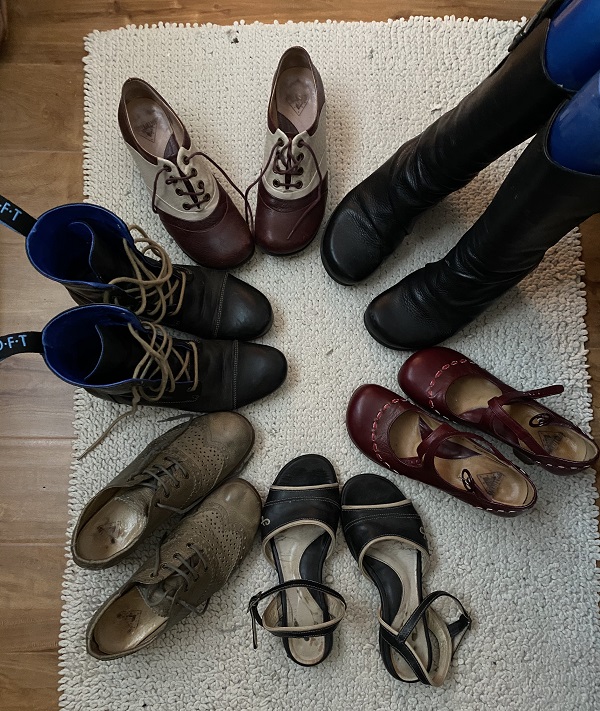 As part of the exhibition "50 Years of Sole: A History of Fluevog: Honouring a Vancouver Icon," presented by The David Lam Management Research Library and Canaccord Learning Commons, Rare Books and Special Collections, and the Irving K. Barber Learning Centre at UBC Library, we are delighted to share profiles of Fluevogers at UBC, and some snapshots into their shoe collections.
Charlotte Beck has been a librarian at UBC Libraries for twenty years and is currently a Reference Librarian at Woodward Library. She is specialized in and publishes research guides for occupational science and occupational therapy, physical therapy, audiology and speech sciences, rehabilitation sciences, and history of science and medicine.
When did you get your first pair of Fluevogs? What were they?
My first pair were sandals that I bought on sale at Gravity Pope in 2009. I have invested in 1 or 2 pairs each year since then and still wear them all.
What do Fluevogs mean to you?
The world. Comfort, style, happiness, and value for money.
Any interesting stories behind your Fluevogs?
I think they may have the interesting stories to tell. They have attended all special and not so special events and travelled the world with me.
How do you feel when you wear your Fluevogs?
Stylish, comfortable and happy.
Can you tell us how many pairs you own?
Not quite enough! When questioned by significant others it's easy to say "Hush! I have just a few for each of the 6 seasons" (6=the normal 4 plus special occasions and casual wear).
What is your favourite Fluevog? Why?
That is an impossible question! On any given day a pair is the favourite and it dictates the rest of what I am going to wear.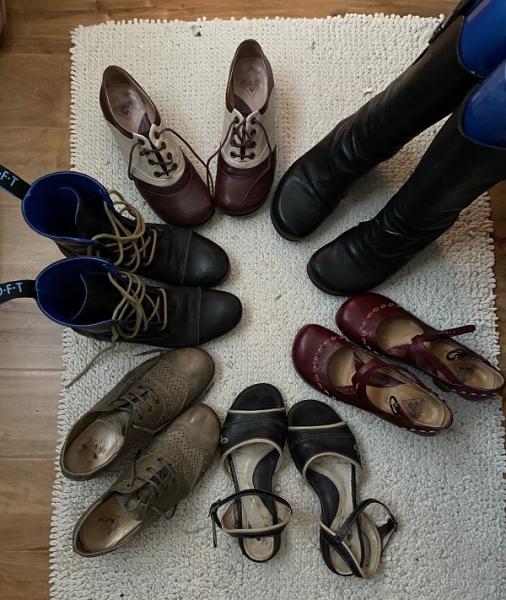 Photo courtesy of Charlotte Beck