As part of the exhibition "50 Years of Sole: A History of Fluevog: Honouring a Vancouver Icon," presented by The David Lam Management Research Library and Canaccord Learning Commons, Rare Books and Special Collections, and the Irving K. Barber Learning Centre at UBC Library, we are delighted to share profiles of Fluevogers at UBC.
Harry Young is the Development Coordinator in the Development & Alumni Engagement Department for the Faculty of Education. Previously, he was the executive coordinator at UBC Library. He has been involved in UBC Library's United Way campaign and launched the annual Spelling Bee in 2010. Outside of work, he enjoys playing tennis and sometimes even serves as an on-court umpire for Tennis BC and Tennis Canada.
When did you get your first pair of Fluevogs? What were they?
1978 – If memory serves correctly they were clogs. Black suede on black leather. Handmade locally.
What do Fluevogs mean to you?
Almost my very first job was as a sales clerk then store manager at Fox & Fluevog Boots & Shoes as it was known back then. In those days the shoes were mostly imported from Europe. Peter Fox began designing shoes while I was around but John Fluevog didn't start designing until after I had left. So I didn't really know about "Fluevogs" until much later.
That said, I loved working there and was pretty close with John in those days.
Any interesting stories behind your Fluevogs?
I was 18 when I started working there while still living at home. I bought a lot of pretty outrageous shoes. My parents thought I was bonkers. I remember the high heeled men's disco shoes from Spain. I think they were called "Misters". About a 3 inch heel, burgundy leather with a brass toe. Very Saturday Night Fever. Then there were the red patent leather short cowboy boots with silver trim. And of course the Dr. Martens. Black suede with metal studs. White leather with black leather weaving. I thought I was so cool!
How do you feel when you wear your Fluevogs?
Not boring. I actually do have a few pairs of genuine Fluevogs that I bought some years ago. Love them and they wear incredibly well.
Can you tell us how many pairs you own?
Only 3 now, but back in the day I had upwards of 50 pairs! (We got a 50% discount!)
What is your favourite Fluevog? Why?
I have a pair of short boots made with multi-coloured suede inlays. The colours are quite muted, but they are still pretty groovy in my opinion.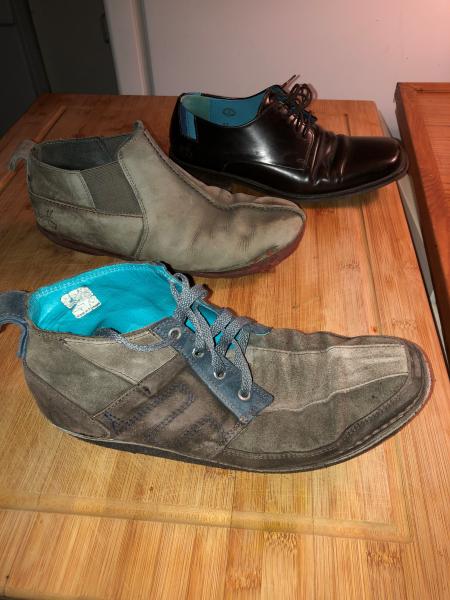 Photo courtesy of Harry Young