Lots of business owners feel outmatched by individuals who went to business school. While there are some excellent benefits of getting a formal business education, it's not necessarily a requirement for success. Some of the most successful business men and women have achieved greatness without any formal training. You can learn many important business skills on your own using the internet, books, workshops and seminars. Some of the most essential skills can't be learned in the classroom at all.
We've put together a list of books to teach you about how to be successful without an MBA. These books are all available through the Vancouver Public Library and other library systems throughout BC.
The Education of Millionaires: Everything You Won't Learn in College About How to Be Successful by Michael Ellsberg

Some of the smartest, most successful people in the country didn't finish college. None of them learned their most critical skills at an institution of higher education. And like them, most of what you'll need to learn to be successful you'll have to learn on your own, outside of school.
Michael Ellsberg set out to fill in the missing pieces by interviewing a wide range of millionaires and billionaires who don't have college degrees, including fashion magnate Russell Simmons and Facebook founding president Sean Parker.
This book is your guide to developing practical success skills in the real world: how to find great mentors, build a world-class network, make your work meaningful (and your meaning work), build the brand of you, and more. Learning these skills is a necessary addition to any education, whether you're a high school dropout or graduate of Harvard Law School.
Like a Virgin: Secrets They Won't Teach You at Business School by Richard Branson

It's business school, the Branson way.
Whether you're interested in starting your own business, improving your leadership skills, or simply looking for inspiration from one of the greatest entrepreneurs of our time, Richard Branson has the answers.
In his trademark thoughtful and encouraging voice, Branson shares his knowledge like a close friend. He'll teach you how to be more innovative, how to lead by listening, how to enjoy your work, and much more. In hindsight, Branson is thankful he never went to business school. Had he conformed to the conventional dos and don'ts of starting a business, would there have been a Virgin Records? A Virgin Atlantic? So many of Branson's achievements are due to his unyielding determination to break the rules and rewrite them himself. Here's how he does it.
The Personal MBA: Master the Art of Business by Josh Kaufman

A world-class business education in a single volume.
Getting an MBA is an expensive choice-one almost impossible to justify regardless of the state of the economy. Even the elite schools like Harvard and Wharton offer outdated, assembly-line programs that teach you more about PowerPoint presentations and unnecessary financial models than what it takes to run a real business. You can get better results (and save hundreds of thousands of dollars) by skipping B-school altogether.
Josh Kaufman founded PersonalMBA.com as an alternative to the business school boondoggle. His blog has introduced hundreds of thousands of readers to the best business books and most powerful business concepts of all time. Now, he shares the essentials of entrepreneurship, marketing, sales, negotiation, operations, productivity, systems design, and much more, in one comprehensive volume. The Personal MBA distills the most valuable business lessons into simple, memorable mental models that can be applied to real-world challenges.
The Entrepreneurial Instinct: How Everyone Has the Innate Ability to Start a Successful Small Business by Monica Mehta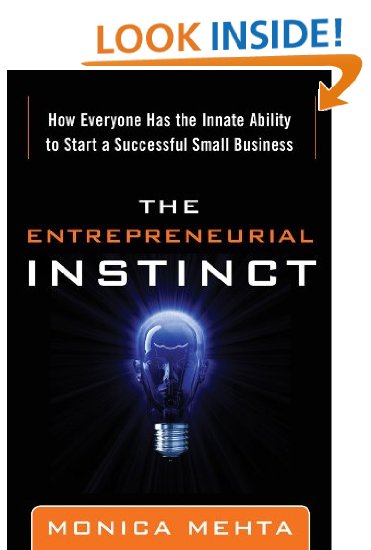 The Entrepreneurial Instinct looks past the rags to riches stories of self-made entrepreneurs to explore how our mind, behavior, and brain chemistry impact our ability to be enterprising in the absence of formal training. Interviews with dozens of entrepreneurs reveal the traits and habits that allow them to take rewarding risks, overcome fear and failure, and thrive in the face of ambiguity. Conversations with experts in the fields of neuroscience and behavioral psychology expose the scientific explanation behind their seemingly innate knack and shed light on how the rest of us who may not be naturally gifted entrepreneurs can use brain chemistry to find success.
The book weaves together stories from entrepreneurs, pop culture figures and thought leaders (including the founders of CLIF Bar, Carol's Daughter, Marquis Jet, Skip Hop, Dogfish Head Beer, KIPP Charter School, J Brand Jeans, writers of Grey's Anatomy, rock journalist Neil Strauss, Phoenix Suns forward Grant Hill) to reveal cutting edge insight on using brain chemistry to work in ways to create a cycle of productivity, take risks that pay and tap into our creative mind to realize professional success.
All book summaries and images from Amazon.com