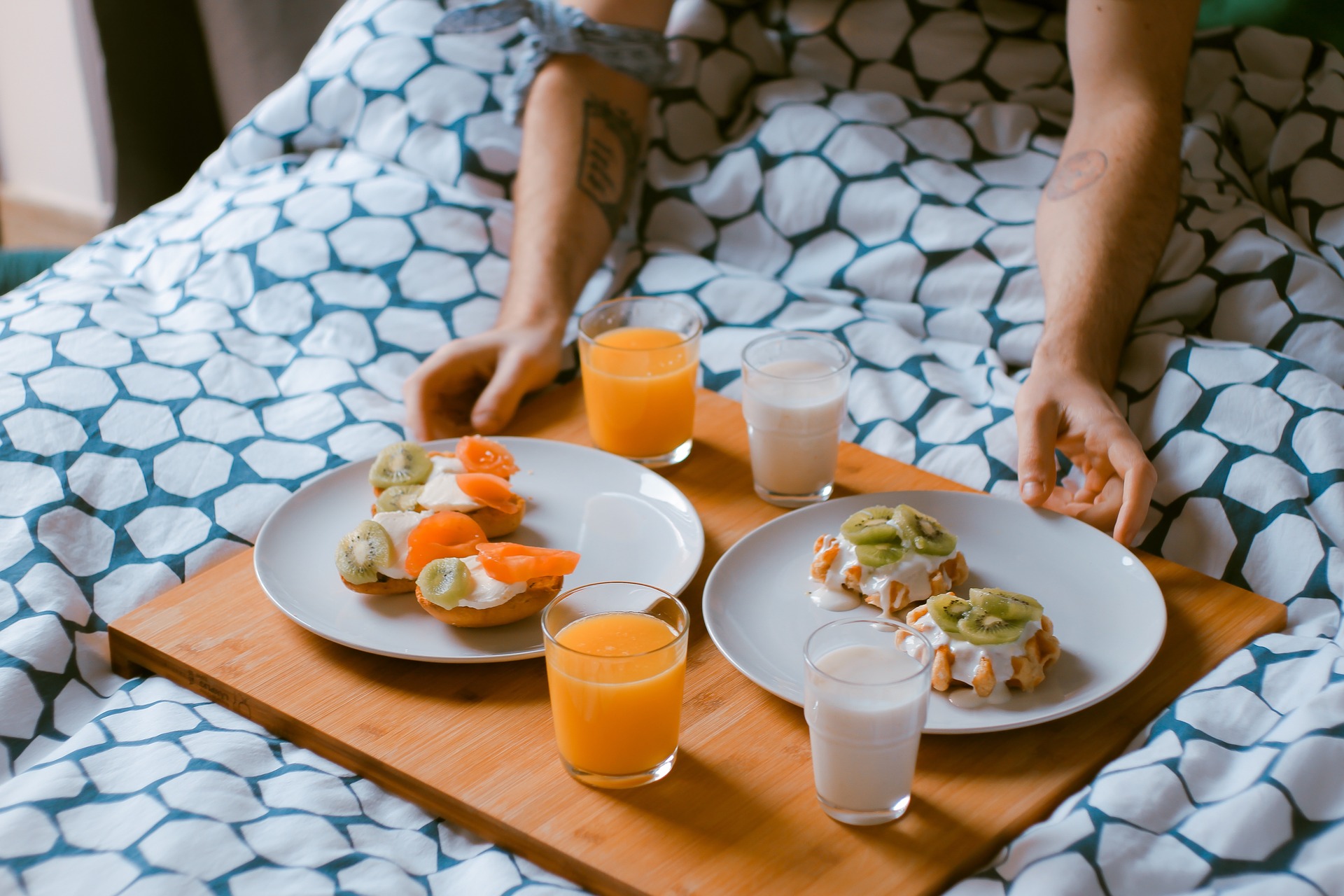 Bed and breakfast industry overview
Bed and breakfasts are small inns that offer personal service, often in private homes, and include a breakfast in the room price. This post will provide those interested in the bed and breakfast industry information about current industry trends and challenges.
Market reports that include information about bed and breakfast often include information about all facilities that offer short-term lodging, including hotels and motels. Key external factors that influence businesses in this industry include per capita disposable income, travel, and corporate profit (Couillard, 2018). Entrepreneurs who are interested in entering this industry should consider whether they have access to a workforce, enjoying working with customers closely, and if they are located in a market that attracts tourism (Couillard, 2018). Recommendations are a very important success factor in this industry (Couillard, 2018).
Canada
There are a variety of accommodation services that compete with bed and breakfasts, including hotels, motels, cottages and cabins, and others. All together, Canada has 12,313 business that fall into these categories. Within the larger umbrella category of "Traveller Accommodation", in 2016, there were 14,218 businesses, which made an average yearly revenue of 571.4 thousand dollars (Government of Canada, 2018). In addition, 74% of these businesses were profitable. Most bed and breakfasts have no employees, which you can see in comparison of the two charts below.
This chart below show how the number of bed and breakfast with employees, in grey, compares to the number of other accommodation services in each province/territory.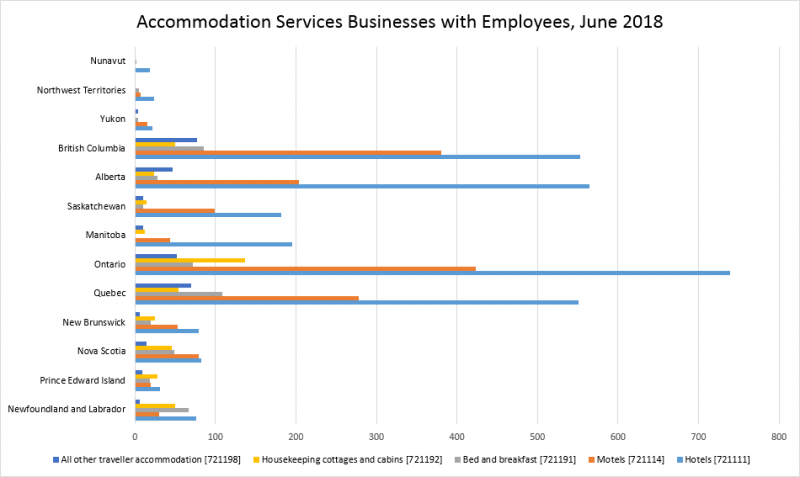 Statistics Canada.Table 33-10-0092-01   Canadian Business Counts, with employees, June 2018
The chart below show how the number of bed and breakfast without employees, in grey, compares to the number of other accommodation services in each province/territory.  As you can see, most bed and breakfast establishments have no employees aside from the owners.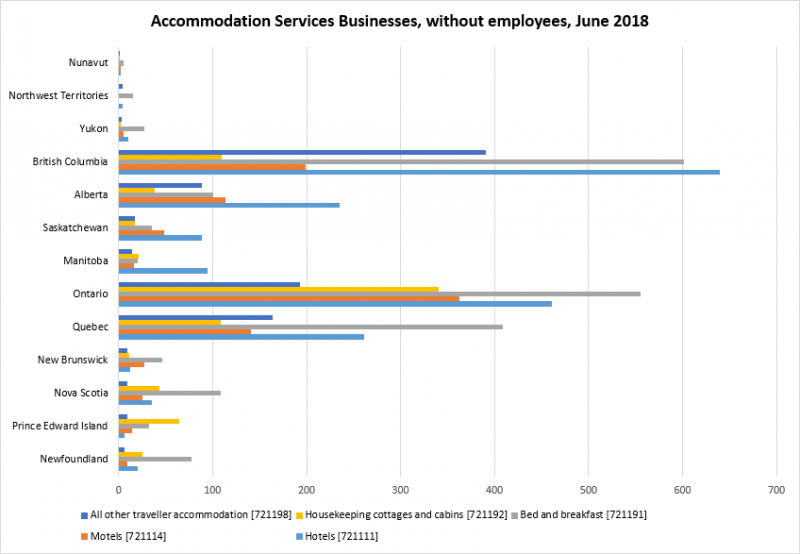 Statistics Canada. Table 33-10-0094-01 Canadian Business Counts, without employees, June 2018
British Columbia
The prevalence of bed and breakfast accommodations without employees continues in BC, as you can see from this side by side comparison:

In British Columbia, 88% of bed and breakfast accommodations do not have employees; there are a total of 686 bed and breakfast accommodations in the province (Statistics Canada.Table 33-10-0092-01   Canadian Business Counts, with employees, June 2018, Statistics Canada. Table 33-10-0094-01 Canadian Business Counts, without employees, June 2018).
Airbnb vs Bed and Breakfasts: What's the Difference?
Airbnb is a booking platform that is part of the sharing economy, allowing home owners and renters to put their extra space on the market for short term rentals through their website. This presents a large source of competition to bed and breakfast owners, as they are offering a similar service; however, Airbnb hosts do not typically include breakfast with their room bookings.
In the past, Airbnb hosts were operating as unregulated businesses, with no formal requirements placed on their ability to provide short-term rentals (Mangione, 2018). BC has recently introduced regulation for Airbnb rentals. Airbnb hosts must collect sales taxes (Harper, 2018), and, as of April 2018, must be licensed and comply with a number of safety regulations (Mangione, 2018). This makes the operating requirements for Airbnb hosts similar to bed and breakfast operating requirements. In both cases, hosts must live on the property.
For more information about Airbnb licensing in BC, please check your municipality's requirements. References to Vancouver's licensing processes (City of Vancouver, n.d.), Airbnb's information page (Airbnb, Inc., n.d.), and BC's strata by-laws (Government of British Columbia, 2018) are included at the bottom of the page.
Industry Trends
This industry has a high rate of competition, which is only increasing with the infiltration of Airbnb listings into the market. However, part of the appeal of Airbnb is the home feel of the accommodation, which bed and breakfasts already provide to their guests (Couillard, 2018). It is essential that bed and breakfasts are aware of the prices that other accommodations are offering for their rooms so that they can price or offer discounts to their guests accordingly. In addition, because there are many large hotel chains that travellers may already have membership to, bed and breakfasts should distinguish themselves from the competition by providing something unique to the industry or the area they operate in (Couillard, 2018). Many bed and breakfasts are also adopting Airbnb to run their online booking services, turning the platform from competition to their business into a tool for booking customers. 
Additional trends in the industry include:
Flexible check-out times;
Smart room keys: allowing guests to use their phones to open their rooms
Increasing use of analytics: analyzing customer behaviour is allowing those in the accommodation business to improve the services they offer
Wellness vacations: increasingly, people are interested in incorporating activities such as cycling and yoga into their travel plans
Personalization of services: increased collection of customer information is allowing hotels to offer personalized services and promotions
(The Business Research Company, 2017)
Financially, this industry is considered mature and industry revenue is expected to grow at roughly the same rate as the economy over the next 5 years (Couillard, 2018).
Below is a breakdown of how industry revenue is generally divided in comparison with sector revenue, which includes all accommodation and food services.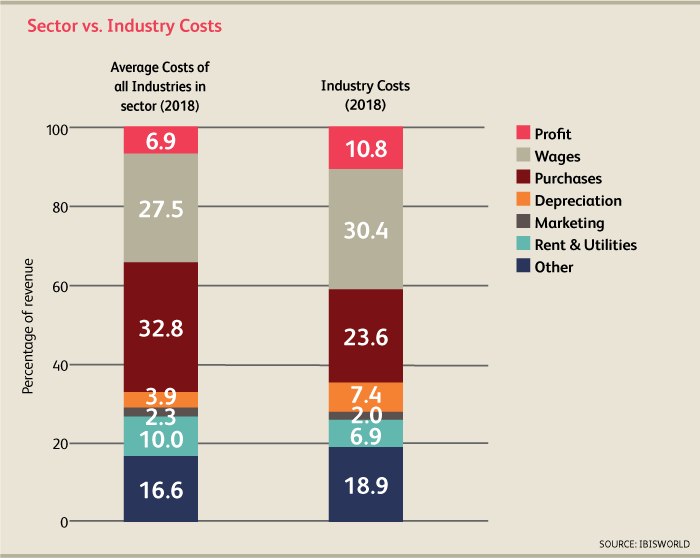 (Couillard, 2018)
Additional Resources
Below are some resources to help you get started on your business research.
Associations
Magazines and Trade Journals
InnFocus Magazine
A publication from the BC Hotel Association, available for free online. Published quarterly.
Hospitality Today
An online multimedia publication for owners in the hospitality industry.
Directories
If you would like to access more resources, the Bed and Breakfast Guide is designed to help prospective and existing bed and breakfast business owners gather information for their secondary market research. The guide is broken down into four main sections that cover how to start your research, industry information, competitive information and customer information. Depending on your needs you can spend as much or as little time as necessary in each section.
If you find that you need more guidance before starting your secondary research, check out The Beginner's Guide to Business Research; it will help you focus on what types of information you will need to gather and why they are important. The SBA is also available to provide assistance through our Contact Us page.
References