Tory Braun from Okanagan Young Professionals Collective Discusses #LocalLoveBingo
We are living in unprecedented times. As we all do our best to plank the curve, small businesses are forced to adapt to the new normal of physical distancing. Restaurants can no longer serve in their establishments, local bookstores are doing curb-side pickup, and small fashion retailers are quickly shifting to online-only. 
In Kelowna, a community that enthusiastically adopts a "buy local" ethos, many businesses and organizations are working together to ensure they all stay afloat. LocalLoveBingo is an example of one of these collaborative initiatives. Produced by Okanagan Young Professionals Collective (OYP), LocalLoveBingo is an actual bingo card, except instead of numbers, each box has a suggestion for how to support local businesses (for example, "buy a restaurant gift card"). It comes in two formats; an Okanagan version and a generic version, and it can be applied to any community. In fact, the LocalLoveBingo has already been shared and adapted by multiple cities including Hermosa Beach in California, Toronto in Ontario, and Baldwin City in Kansas.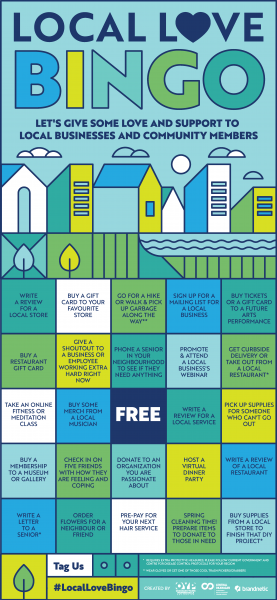 We (virtually) met with Tory Braun, Community Cultivator at OYP, to discuss her inspiration for creating this fun way to help support local businesses.
SBA: How did you come up with the idea for LocalLoveBingo? 
Tory: The OYP Collective is a program of the Central Okanagan Economic Development Commission and we immediately recognized the impact the pandemic would have on small businesses and wanted to find a fun and engaging way to support them. We knew we wanted to do something about spreading "local love." When I logged onto Facebook, my feed wasn't filled with fear and anger, it was filled with people looking for and sharing ways to help in our community - and that was a beautiful thing. We built on some of those ideas to create a bingo card so people could play along from a distance.
SBA: Can you describe the process for creating the LocalLoveBingo? Who else contributed to it?
Tory: The process was a whirlwind and the whole thing came together in under 48 hours with a lot of community collaboration. I had put together a draft and had a lot of help from my network on social media with feedback and ideas to fill up each of the bingo boxes. Then I reached out to local marketing company Brandnetic Studios to see if they were interested in doing the design. Brandnetic is well-known for their community initiatives and their support of local businesses, so it was an ideal match. They took the vision and applied their creativity and unique design aesthetic and the final product blew us all away - it looks amazing!
SBA: How does LocalLoveBingo support small businesses? 
Tory: LocalLoveBingo gives people tangible ways to take action to support community members who are vulnerable, as well as the amazing businesses in this region (or whatever region you live in). Many of these local businesses have needed to shut their doors or modify their services which has affected their revenue. LocalLoveBingo highlights ways you can still financially support businesses (ordering takeout, buying gift cards, pre-paying for services you know you will use later) but also offers no-cost actions that will have positive impacts on the business - such as writing an online review or giving a shoutout on social media.
SBA: Why is it important to support local businesses during this time?
Tory: These business owners are our friends, family and neighbours. These owners are navigating the same personal challenges shared by all of us during this time, but that is also compounded by having to make tough decisions and quick adjustments to the business that provides their livelihood. We are so lucky to live in a place where small businesses are celebrated and truly make up the building blocks of our community. So many of these services, stores, organizations and artists are engaged with and give back to the community in generous ways. Now it is our turn to rally around them and provide whatever support we can to ensure we all get through this together.
Visit the OYP website to download the Bingo game and start playing! Don't forget to use the hashtag #LocalLoveBingo. 
OYP acknowledges that rules and regulations regarding COVID-19 are constantly changing: "Please remember that as advice and conditions are changing daily around COVID-19, some of these activities may no longer be encouraged. Please educate your audience to make sure they are up to date on their local region and take direction from their official government and centres for disease control."
OYP, powered by the Central Okanagan Economic Development Commission (COEDC), is creating a "culture and community that attracts and retains young professionals to the Central Okanagan region through a variety of volunteer, social, professional, sports, arts, cultural events and activities" (OYP). Follow them on LinkedIn, Facebook, and Instagram.