In this part of the Adopting Digital Technologies series, we take a deeper look at the importance of incorporating the mobile environment into how the greater community interacts with your small business's online presence.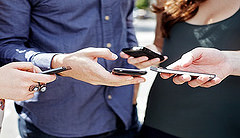 The regulatory agency Canadian Radio-television and Telecommunications Commission (CRTC) found that 81% of Canadians are subscribed to wireless services, and 52% of those accessing wireless services are doing so from a smartphone. These numbers are staggering and projections indicate that the number will continue to increase. Small business owners must take these numbers into consideration as they plan to adapt to the changing technological landscape. And the good news is more and more of these technologies are accessible for small businesses to have affordable options to stay in touch with their mobile customers.
This doesn't only affect your website, but permeates into the realm of your marketing strategy as well. Adopting mobile technologies in your business plan is not about adding more, it's about integration into your already existing strategy. Below are some resources to help you get mobile; from modifying your website, to creating an independent mobile app, to modifying your marketing approach, the time is now.
Mobile-ready website
The first step to mobile-izing your business starts with the basics – the company webpage. Smartphones, tablets and other mobile devices offer infinite screen sizes to display your website content. It is necessary for your website to be flexible in its display to connect with every potential customer or partner who is accessing your site on their device. This can be done in a couple of ways, one of which is to incorporate "responsive design" into your website's code, which means that the website will change its appearance in response to the size of the screen on which it is being viewed. The other is to create a simplified version of the current website that is specific to mobile devices, referred to as a mobile site. Both approaches have strengths and weaknesses, so it's important to review each one to choose the best fit.
Further reading:
Small Business BC - Why your business needs to get mobile 
Canada Business – Mobile websites-do you need one? | Published in 2011 when smartphone use was growing in prevalence, this gives a basic overview of why mobile websites are necessary in the changing technological environment.
Canada Business – Your customers are mobile; are you? | This blog post has a straightforward listing of the different ways to approach getting your website ready for the mobile user, as every approach will vary for each business depending on their goals.
BDC – What is mobile marketing anyway? | This lays out some important considerations as you move forward with adapting your website content for mobile devices..
Google – Building websites for the multi-screen consumer | Google's whitepaper identifies different approaches to becoming mobile-friendly and includes handy information on search engine optimization (SEO).
Low-cost online resources to get you started:
Website Tool Tester reviews | Check the reputation of the mobile website developer you choose with this site or another trusted site like TechCrunch or PC Mag.
Google's multi-screen vendors
Wix
Webflow
Weebly
bMobilized
DudaMobile
Mobile apps
Mobile applications – or for short, mobile apps – are independent of the internet browser app on your phone or tablet. Creating a mobile app that is specific to your business requires a bit of effort on your end, and it's most likely a good idea to invest some money if this is the route you take.  A mobile app must be configured for each operating system (like iOS for Apple devices or Android), and therefore a small business owner should devote some thought into whether this route is worth the investment. However, with the landscape expanding there are some low-cost resources online that can help you create a mobile app with little to no coding experience.
Further reading:
Small Business BC – Mobile apps for small business | The experts over at SBBC highlight some key considerations before taking the plunge into the mobile app world.
MaRS – Mobile apps | If you indeed decide that a mobile app is right for your business, this resource offers many ways to stay informed on the mobile app industry to keep you competitive and understand analytics.
CanadaOne – Going mobile: Cutting through the confusion for small business owners | Although it touches on all approaches to going mobile, the article addresses the issues in mobile app development well.
Entrepreneur.com – Responsive design or mobile app: Do you need both? | This hashes out the argument taking place in many small business owners' minds, and gives some tips to move forward.
Low-cost online resources:
App Builderz - reviews  – check the reputation of the mobile app developer you choose with this site or another trusted site like TechCrunch or PC Mag.
Wix Apps
Appy Pie
iBuild App
Conduit Mobile
Mobile advertising

As the growth in smart phone use has nowhere to go but up, let your marketing strategy reflect this new technological trend and incorporate some mobile initiatives. Mobile advertising is a broad term used for the variety of ways advertisements are expressed on a smartphone or tablet platform. This article lays out the wide variety of mobile marketing categories, which including those we find in free apps, in games, and the use of location data of your customers to know when that advertisement should be placed on their phone. Google issued a report in 2013 finding that 77% of Canadian mobile users researched a desired product on their device, and 1 in 2 of them did so after seeing a mobile advertisement. In a study conducted by the CWTA, 32% of respondents showed interest in the idea of having a service that sends information or coupons to their mobile device based on their real time location. It's no longer about whether your small business has the money, it's about how you can't afford not to adopt mobile marketing into your business strategy, says this Small Business BC blog post. Also check out last week's video roundup on making the most of mobile advertisements.
Further reading:
Business 2 Community - Small Business Mobile Marketing Tips
Interactive Advertising Bureau (IAB) of Canada – Mobile Checklist for Marketers 
Mobile Marketing Association - 5 Mobile Advertising Trends in 2014
mobiThinking – The insider's guide to mobile web marketing in Canada
CanadaOne – How group-buying sites are transforming business 
Mediative – Hyperlocal mobile display advertising
Online resources:
Foursquare for business
Yelp for business owners
Yellow Media business centre
Google mobile ads
Engage with us!
Did you face any challenges while adopting your online presence to the mobile environment? What tools or resources have you used to integrate mobile technology in your business? Have any of our resources been useful to you? We always welcome your comments below!
SBA Adopting Digital Technologies series
Part 1: The Conference Board of Canada's 6 Best Practices
Part 2: WEC Guest Blog on Low-Cost Strategies for Going Online
Part 3: Using Technology for Financial Transactions
Other related SBA content
4 Tips to Make the Most of Mobile Ads—Video Content Roundup
Small Business Online Marketing Trends 2014
Avoid These Common Mobile Marketing Mistakes
Business e-Tools: Website Management
---
PHOTO CREDIT: Close up of friends using smart phones created by Abd allah Foteih on May 4, 2014. Image made available under Creative Commons Attribution 2.0 Generic. Last viewed on July 31, 2014.
PHOTO CREDIT: Responsive Web Design created by Muhammad Rafizeldi on November 18, 2013. Image made available under Creative Commons Attribution 3.0 Unported. Last viewed on July 31, 2014.