Published: Jun 26, 2015
Last Updated: May 12, 2016
Everyone can remember a time when they had a wonderful customer service experience.
Whether it was someone spending extra time to help you find a solution to your problem or just feeling good every time you walk out of certain stores, customer service can be the difference between a one-time and lifetime customer. Luckily, Canadian businesses are already killing it in the customer service arena, ranking second only to New Zealand in customer satisfaction. Just in case we feel like bumping it up a notch, here's a list of tips for keeping your clients happy and returning to your business again and again.
1. It's not you, it's me
In a study conducted by the Sauder School of Business, participants were divided into two groups and given instructions to create an "award-winning smoothie recipe" with a malfunctioning food processor. One group was told the problem was in their ability to recreate the recipe, while the other group was let off the hook by telling them about the machine's flaw. The study concluded that if a customer feels they have any agency in the problem at hand, they are more likely to rate a company lower, but if they feel that they were doing everything correctly and it was the fault of the business, they are more likely to work with the business again if their complaint is addressed.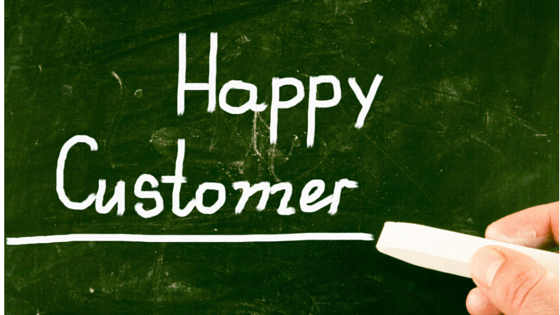 2. What problem are you solving?
The most successful businesses offer a service or product that is solving a problem for a customer. Knowing clearly what problem you are solving for current and potential buyers can give you the edge in providing high customer satisfaction and have them return to you for more solutions to their problems. eUBC's Customer Fix Chart can walk you through creating a model for this.
3. Manage expectations
Don't promise the world if you won't be able to deliver it. In her Globe and Mail article, Nicole Smartt uses Disneyland as an analogy for customer service. She reminds us that visitors to the park are happy to wait an hour to board a ride if they are told in advance how long it will be, and have an expectation that the ride is worth waiting for.  Conversely, it would be unwise to promise the moon and deliver a pebble. 
4. Go above and beyond
When you go out of your way to make a great experience for a customer, they will notice. When you give free upgrades, throw in a little something extra into their bag, or take an unexpected discount off their bill, the money spent on surprising the customer could come back to you in increased spending on other products or free advertising via social media or word-of-mouth. However, according to a study at UBC's Sauder School of Business, it is better to give a random freebie to someone when they are by themselves, as it can make them uncomfortable to accept an unearned gift in front of strangers, whereas it is perfectly acceptable to give "earned perks" in front of strangers. 
5. Be social media savvy
Social media is a great marketing tool, but if unhappy customers take to it to vent grief about your business, the reputation damage can spread like wildfire. To aid in damage control, respond to complaints as fast as you possibly can to deescalate the situation. Try to ascertain from the start if this is an issue that can be resolved on the social media platform or if contacting them directly will be a better solution. Make sure if you are engaging on Twitter that you have someone dedicated to maintaining the account, as 81% of customers who complain on Twitter expect a response by the end of the day. 
---
References: