Published: May 23, 2013
Last Updated: Apr 27, 2017
Restaurants are found in both rural and urban communities and are consistently a popular start-up idea. As such, we want to provide you with a current industry overview, trends and challenges as well as provide some research resources for those interested in opening a restaurant.
When we talk about "restaurants" we mean a business that prepares and serves food and drinks to customers (the food can be eaten on site, taken out or delivered). Some of the types of restaurants found are: full service establishments, coffee shops, cafeterias, short order cafes, taverns and sandwich stands (they can also be independently owned and operated or part of a chain or franchise).
Industry Overview
BC
Restaurants employ over 170,000 people in BC and generate more than $10 billion in annual sales, making them a significant economic force in the province. According to the British Columbia Restaurant & Foodservices Association Restaurant News the return to PST in British Columbia will be a good for the restaurant industry as it will positively impact consumer spending.

Canada
According to the Canadian Restaurant and Foodservices Association (CRFA) the restaurant industry in Canada generates $67 billion annually or 4% of the nation's economic activity. The industry also employs over 1.1 million people (6.4 % of the Canadian workforce) making it the fourth largest employer in Canada. Going to restaurants is also a popular activity with CRFA stating that it is the "number one preferred activity for spending time with family and friends".
Industry Trends and Challenges
In an article for Restaurant Central, Barbara Smyth (Director, Foodservice Canada for the NPD Group) outlines four trends in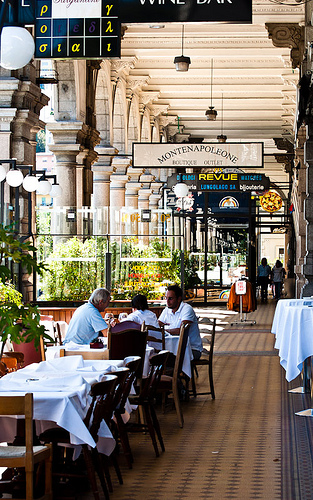 food service for 2013; more competition (which will lead to more choice), value vs. premium (economic uncertainty will mean the continuation of deals), ethnic foods becoming mainstream options and afternoon snacking (in the form of food that customers can "eat on the run"). Smyth also points out that in the last 12 months the traffic growth has increased four to five percent around afternoon snack and supper times.
Emerging food trends for the coming year include leafy greens, root vegetables and locally grown vegetables. Menu items will also start taking into account vegan, gluten-free, lactose-free and sugar-free diets. Donuts, new grains, ethnic foods, animal skin and noodle bars are also predicted to be part of 2013's food trends.
Some of the major challenges for the year ahead are economic uncertainty, fluctuating consumer confidence and a stalled unemployment rate. Other factors that could pose a challenge to restaurants in the future are: population changes, more time is being spent working, educated customers, social media and deal of the day websites. Rising commodity prices are another area of potential concern as they could impact financial results.
Below are some resources to help you get started on your business research:
Associations
British Columbia Restaurant & Foodservices Association (BCRFA)
Canadian Association of Foodservice Professionals (CAFP)
Canadian Culinary Federation (CCF)
Magazines & Trade Journals

Eat Magazine
Food in Canada
Directories
B.C. Business Network
Canadian Companies Capabilities
Frasers
ThomasNet

Suggested Search Terms
Restaurant management
Food service management
New business enterprises -- Management
Small business -- Management
Additional Resources
If you want to access more resources, the Restaurant Business Accelerator Guide is designed to help prospective and existing restaurant business owners gather information for their secondary market research. The guide is broken down into four main sections that cover how to start your research, industry information, competitive information and customer information (depending on your needs you can spend as much or as little time as necessary in each section).
If you find that you need more guidance before starting your secondary research, check out our Business Research Basics Guide, it will help you focus on what types of information you will need to gather and why it is important.
PHOTO CREDIT: a restaurant in Lugano, created by Hallenser on August 31, 2010. Image made available under Attribution 2.0 Generic license. Last viewed on May 22, 2013.
PHOTO CREDIT: Food - seafood hot pot, created by Nick Nguyen on July 22, 2009. Image made available under Attribution-ShareAlike 2.0 Generic license. Last viewed on May 22, 2013.