Published: Dec 10, 2018
Last Updated: Mar 9, 2019
This industry overview includes the latest statistics and trends for both full service and limited service restaurants. 
Full service restaurants, providing food services to patrons who order and are served while seated (i.e., waiter/waitress service) and pay after eating. 
Limited service restaurants, which are primarily engaged in providing food services (except snack and non-alcoholic beverage bars) where patrons order and pay before eating. Food and drink may be consumed on premises, taken out, or delivered to the customer's location.  These are also known as fast-service or fast-food restaurants.
For more specific information about researching the restaurant industry, please see our Restaurant Industry Guide. 
For information about related industries please see our industry guides for Catering, Bakery, Coffee Shop, Bar & Nightclub, Specialty Foods, Street Food Vendor.  
---
Content
---
Industry phase: Mature            
Concentration: Low            
Competition: High
Regulation: Medium-High
Barriers to entry: Medium
---
Sales
As of September 2018, BC food services and drinking place sales totalled $1,038,023,000 (Statistics Canada)
Sales were up in every province in the third quarter of 2018, with the largest gains in dollar terms in British Columbia, +8.0%. (Statistics Canada)
Prices for food purchased from restaurants rose 4.4% year over year in the third quarter. (Statistics Canada) 
Source: Statistics Canada Table 21-10-0019-01 Monthly survey of food services and drinking places (x 1,000)
Source: Statistics Canada Table 21-10-0019-01 Monthly survey of food services and drinking places (x 1,000)
---
Consumer spending power 
The restaurant industry is affected by disposable income, consumer confidence and levels of unemployment. 
Per capita disposable income is forecast to grow at an annualized rate of 2.7% over the next five years, enabling a greater number of Canadian consumers to eat out at industry establishments. 
Full service restaurants are also going to be boosted by an anticipated increase in corporate profit and subsequent increase in client entertainment spending. 
Consumer spending is projected to continue growing at a steady rate over the five years to 2022, driven by relatively low unemployment and high levels of disposable income. 
Strong growth in the number of households earning more than $100,000 per year will lead to greater spending in the industry's high-end segments. 
(Sayler, 2018)
Demand for convenience
Recent social trends, such as busier lifestyles, heavier workloads and longer working hours, have helped boost demand for restaurant services and convenience food, as time-poor consumers look to cut down on cooking times and make better use of their spare time. 
Demographic changes 
The changing age structure of the population influences industry demand. Two broad demographic trends have encouraged industry growth over the past decade. (Sayler, 2018)
The baby-boomer generation has access to higher disposable incomes than previous generations, meaning they are more likely to spend on eating out. 
Young adults aged between 18 and 30 are delaying marriage and having children later; this enables young consumers to spend a greater proportion of their income on dining out. This millennial age bracket is spending a higher proportion of their food budget eating out than any other age bracket, making them a key target market and driver of change. 
National Growth
Both full and limited service industries have seen moderate growth over the past five years, with growth also predicted for the next five, albeit at a slower rate. 
| | | |
| --- | --- | --- |
| Full service  |   |   |
| 2013 - 2018 | 4.1% |   |
| 2018 - 2023 | 2.1% |   |
| | |
| --- | --- |
| Limited service  |   |
| 2012 - 2017 | 4.5% |
| 2017 - 2022 | 2.2% |
Growth rate – number of transactions 
Industry consumption volume increased with a compound annual growth rate (CAGR) of 1.8% between 2013 and 2017, to reach a total of 5.7 billion transactions in 2017. The industry's volume is expected to rise to 6.3 billion transactions by the end of 2022, representing a CAGR of 1.9% for the 2017-2022 period. (Marketline, 2018)
Growth rate – market value 
In 2017 the Canadian foodservice industry had total revenues of $54.3 billion. By 2022, this is forecast to rise to $63.3 billion, maintaining the same compound annual growth rate as the 2013 - 2017 period of 3.1%. (Marketline, 2018)
---
Profit margins under pressure
Profit margins within the industry are generally narrow, and are under increasing pressure from rising food and labour prices. On average limited service restaurants fare better with a profit of 10.4% in 2018 (Sayler, 2018), compared to that of the full service industry at 3.2% in 2017. (Sayler, 2017) 
In 2016 Statistics Canada report that 71.1%% of all restaurants with annual revenue up to $5m are profitable. (Statistics Canada)
Barriers to success
While barriers to entry into the industry are relatively low, barriers to success (i.e. the ability to stay profitable and in operation for more than a few initial years) are relatively high. According to industry sources, about 60.0% of new full service restaurants close or change hands within three years of opening. (Sayler, 2017)
---
Whole Industry
Full Service
Limited Service

Access to multiskilled and flexible workforce
Having a clear market position
Effective cost controls    

Proximity to key markets
Ensuring pricing policy is appropriate 

Business expertise of operators
Market research and understanding
Ability to franchise operations
---
Limited Service Industry (Sayler, 2018)
Full Service Industry (Sayler, 2017)
 

---
Reflecting the low concentration within this industry, the vast majority of both full service (92%) and limited service restaurants (95%) in British Columbia have fewer than 49 employees.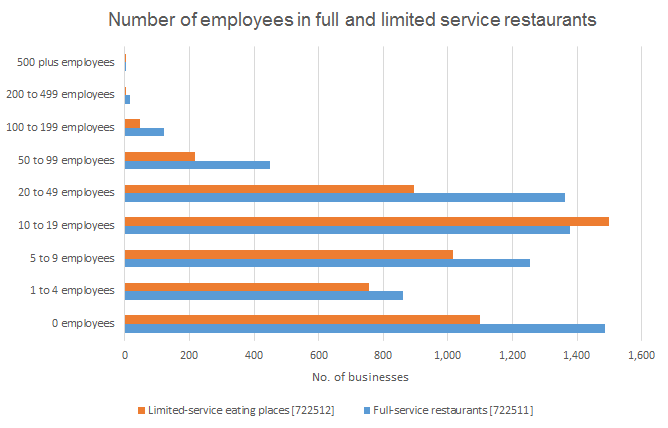 Source: Statistics Canada Table  33-10-0092-01 Canadian Business Counts, with employees, June 2018 and Table 33-10-0094-01 Canadian Business Counts, without employees, June 2018  
---
Healthy choices
Consumers are increasingly health conscious and searching for businesses that reflect those values. Many limited service restaurants have taken advantage of this trend by shifting menus away from fatty and fried foods to focus on quality products and nutritional value. Full-service restaurants are also adapting to this trend, but higher prices still keep them out of some consumers' reach. 
Ethical considerations
Consumers are increasingly concerned about what they consume and where their food comes from, resulting in a rising demand for locally sourced, cruelty-free options as well as vegan and vegetarian menus. There are indicators this is fueling a move away from red meat towards poultry and seafood options. 
Off-premise and third party delivery
Third party delivery services have opened up the possibility of a much broader range of restaurants offering delivery. The convenience factor of these products is also proving popular, particularly with millennial consumers. There is speculation this could lead to the rise of the "ghost kitchen" which offers a delivery only service and no physical front of house offering (Phelps, 2018).  
The rise of fast casual
The lines between fast food and full service restaurants are increasingly blurring, leading to the rise of the "fast casual" or "fine-casual" restaurant. These offer a hybrid of the full service and fast food industries, typically combining rapid service with higher quality items, at a lower price than traditional full service dining options. Sales at major US fast-casual chains grew by about 11% in 2015, compared to 5.5% for limited-service establishments and less than 5% for all restaurants (First Research, 2018).
Selling an experience
Due to the high level of substitutes (eating at home, competitor restaurants, food trucks and alternative leisure activities) some restaurants are focusing on marketing the full experience of the meal in order to attract customers and/or increase price points. 
Staff shortages in British Columbia
Of the 2.5 million British Columbians who make up the workforce today, 174,200, or 7.3%, people are directly employed in the restaurant industry. Over the next ten years, BC is looking at a skilled labour shortage of more than 514,000 workers, the result of several factors including demographic shift, low unemployment, skill shortage and kitchen culture.  (BCRFA, 2018)
Technology
The industry is highly dependent on direct labour input across all areas of operation and many of these functions cannot be substituted by technology or machinery. That said, technology can be used to improve internal business processes. 
The most popular current applications are point-of-sale, time and attendance (for employees), customer traffic counter and in-store back office systems, as well as debit and credit card programs, labour scheduling, labour productivity analysis, inventory management, e-mail, food production and kitchen scheduling. (Sayler, 2018)
---
Bibliography
BC Restaurant and Food Services Association (2018). Metro Vancouver Restaurant Labour Shortage: Report & Recommendations. Retrieved from http://www.bcrfa.com/wp-content/uploads/2018/10/Final-Report-Labour-Shor...
First Research (2018). Restaurants, bars & food services - quarterly update 6/25/2018.  Fort Mill, South Carolina: Mergent. Retrieved from ABI/INFORM Collection; Business Premium Collection 
Lalley, H. (2018). 10 Trends Emerging from Top Growth Chains. Restaurant Business 117(7) pp.41-62
MarketLine (2018). Foodservice in Canada (MarketLine Industry Report). 
Saylor, B (2017). Full-Service Restaurants in Canada (IBISWorld Industry Report 72211CA). IBISWorld Inc. 
Saylor, B (2018). Fast-Food Restaurants in Canada (IBISWorld Industry Report 72211aCA). IBISWorld Inc.  
Phelps, R (2018) Ghost restaurants set to disrupt traditional eatery industry. Financial Post Retrieved from https://business.financialpost.com/entrepreneur/ghost-restaurants-set-to...
Statistics Canada (2018) , Food services and drinking places, September 2018. Retrieved from: https://www150.statcan.gc.ca/n1/daily-quotidien/181122/dq181122c-eng.htm
Technomic (2018) Consumers increasingly making food choices based on personal definition of health. Retrieved from https://www.technomic.com/newsroom/consumers-increasingly-making-food-ch...