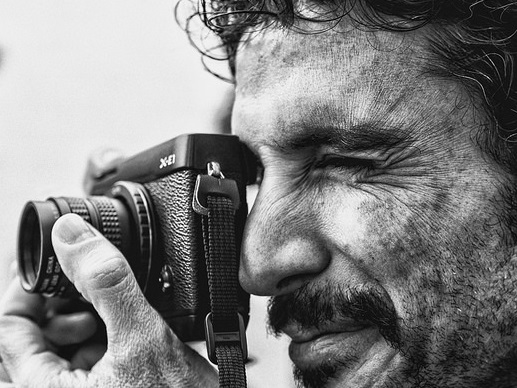 Portrait photography involves capturing the likeness of a person or persons using various photographic equipment- in either a studio or at a specific location. This type of photography is particularly popular for special occasions such as weddings, engagements, and births. In order to operate a successful portrait photography business, photographers need solid business management skills, along with experience behind the lens. This field has been greatly impacted by advents in technology; however the industry is expected to grow moderately in the coming years.
Industry Overview
BC

In British Columbia the photography industry includes everything from studio photographers, to photo journalists to technical photographers. According to WorkBC, the photography profession appeals more to younger workers with more than 50% of those employed in the industry being between the ages of 25 and 44. This is likely because of the need for photographers to be industrious and self-promoting in order to become successful. Statistics Canada states that BC has the third highest number of photgraphy businesses in the country after Ontario and Quebec. However, as most studios employ fewer than 4 people, the likelihood of being employed by an outside source is not high. As a result, many photographers are self-employed and only 32% of photographers are 
working full-time, meaning that many photographers have multiple jobs, or pursue various artistic projects to make ends meet (WorkBC). Like most markets, opportunities are more prevalent in concentrated urban centres but the competition is also higher in these locations.
Canada
According to the 2011 National Household Survey, 71,580 photographers are employed in Canada, with 75% of them working in portrait photography. In Canada school portrait photography makes up 15.3% of the market, personal and group photography is another 34.7% and weddings make up a mere 5.5% (IBIS World). As photography services are considered discretionary, the success of the industry is directly tied to the strength of the economy and those with disposable income are more likely to hire photographers for special occasions or events. As a result the number of photographers in Canada has decreased in the last few years  and job openings in already existent companies are likely only to be generated when people retire (Stats Canada). Overall, however, IBIS World's Industry Outlook projects moderate growth in the Canadian photography industry over the next five years as the economy continues to improve. 
Financial Performance Benchmarks
Portrait Photographers fall under the Photography Services (NAICS 54192) category. The chart below pulls the latest financial data from the specific Industry Canada page and compares the cost structure of Photography Services as compared to the sector (Professional, Scientific and Technical Services (NAICS 54)). The main difference between the sector and industry is that the scope of the sector is larger (broader NAICS code) as compared to an industry, which is essentially a specific "group of companies or businesses".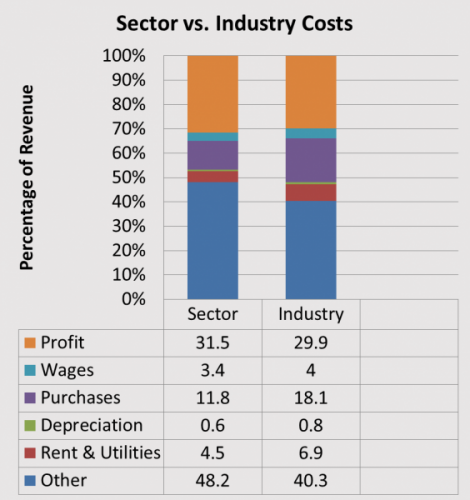 Industry Trends and Challenges
With an increase in the affordability and availability of high quality cameras over the past few years, the photography industry all over the world has drastically shifted. Gone are the days of dominating heavy hitters in the field, such as the large portrait studios formerly found in every Sears department store. Currently the Canadian portrait photography market is filled with numerous small studios that usually operate within a limited geographic region.
According to the IBIS World Industry Report, this access to technology has also limited the need for professional training and has increased the number of self-taught photographers who are self-employed. Additionally, the affordability of editing software has also cut back on the operating costs of most photographers. However as the number of industry operators increases, photographers must think creatively to set themselves apart from their competition. Social media has become a great way for photographers to show off their skills and connect with both past and potential clients. This online presence has become integral to the success of photographers, especially those who are independently run, and operate without a fixed studio space.
Resources
Associations
Magazines & Trade Journals
Directories
Additional Resources
If you would like to access more resources, the Portrait Photography Accelerator Guide is designed to help prospective and existing business owners gather information for their secondary market research. The guide is broken down into four main sections that cover how to start your research, industry information, competitive information and customer information. Depending on your needs you can spend as much or as little time as necessary in each section.
If you find that you need more guidance before starting your secondary research, check out our Business Research Basics Guide, it will help you focus on what types of information you will need to gather and why it is important.
Related Guides