As business trends and knowledge change at a fast rate in our society, the demand for lifelong learning increases. This week, we look at the growing number of online resources that can contribute to lifelong learning to help your business succeed.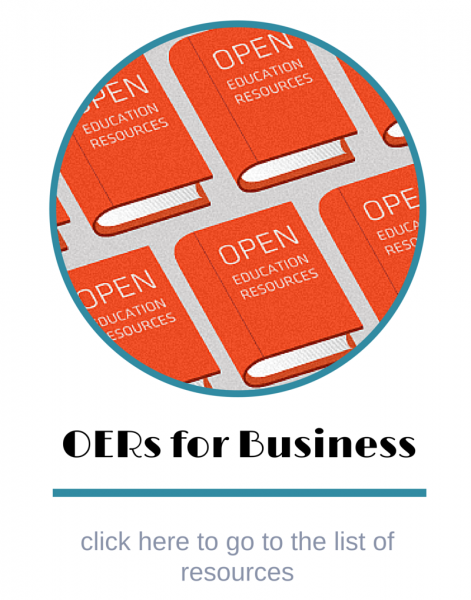 Within the small business sector, continuous learning can enhance the education of business owners. Industry Canada found that 65.7 per cent of small business owners (defined as 1-99 employees) have an educational attainment of less than a bachelor's degree. Using freely available resources online can enhance business knowledge for those who may not have received a structured business education (and can enhance the education of those who have!). Many of these free resources are known as open educational resources (OERs).
What is "open" anyway?
Although "open" is an everyday word with seemingly straightforward connotations, in the context of copyright and use it bears deep meaning. As summarised by Open Knowledge, a global advocacy organisation:
"knowledge is open if anyone is free to access, use, modify, and share it – subject, at most, to measures that preserve provenance [the resource's origins] and openness." 
The open movement's roots are in computer programming, as there was a growing effort to keep software freely available, and over time it expanded into the educational world (Wiley & Gurrell, 2009).
What is open learning?
Open learning is defined as "a set of practices, resources and scholarship that are openly accessible, free to use and access and [sometimes] to repurpose" (O'Byrne, et al., p. 277). It allows for flexibility for learners in space and time, meaning they do not have to be in a particular location, nor present at a specific time to participate in the learning opportunity. It also conveys low-barrier principles, as there are no hard pre-requisites for participation in the learning process, according to Tony Bates, an expert in the field. It should be noted, however, that many institutions use the term "open learning" as synonymous with "distance learning," and the term does not always imply free and without prerequisites, such as Thompson Rivers Open Learning.
What are open educational resources?
Open educational resources (OER) are the tools used in open learning environments. They are "teaching, learning and research resources that… have been released under an intellectual property license permitting their free use and re-purposing by others" (O'Byrne, et al., p. 278). In reality, they are about as defined as they are vague, and come in a variety of formats and platforms with different levels of "openness," some allowing for educational use only (Hylen, 2008).
How does this apply to my business?
Hardy and Everett (2013) identified two main challenges that business education programs face today that probably resonate with the small business environment – relevance of the resources, and the cost. As the business world is rapidly changing these days, it can be difficult for business schools as well as business owners to keep up. The OER model allows for businesses to gain knowledge in relevant business areas with little monetary cost. The other factor not mentioned – the precious commodity of time – is easily flexible and a small business owner or employee can devote as much or as little time as they have to the resource.
OERs – a sample list of business resources
Key websites:
»HP Learning Initiative for Entrepreneurs (LIFE) – Launched by the Hewlett-Packard Company, this is a resource specifically designed for entrepreneurs to develop the unique skills they need for success.
»Saylor Academy – A resource of many free courses, created by educators and in partnership with colleges and businesses.
»ALISON – This collection is more focused on skills development rather than academic content, including resources on digital and financial literacy.
»Coursera – Similar to edX, Coursera is a hosting platform for universities to place their learning content, with use by Johns Hopkins University, Stanford University, the University of Toronto and our very own University of British Columbia.
»edX – Similar to Coursera, edX is a hosting platform for universities to place their learning content, with use by Massachusetts Institute of Technology, Harvard University, McGill University and our very own University of British Columbia.
»OpenLearn – The home of free learning from UK's The Open University that hosts many courses and other educational resources that can be filtered by subject.
»BC Campus OpenEd – Our own province is a leader in the development of open educational resources, mostly in the form of textbooks. They are currently working on a second round of textbooks that will be freely available to develop skills in trade industries critical to the BC economy.
»Directory of Open Access Journals (DOAJ) – This is a great place to go if you are looking for open access journals of business-related or industry-specific scholarly content.
Related SBA content:
---
References:
Hardy, Gordon M., and Daniel L. Everett, eds. Shaping the Future of Business Education. Palgrave Macmillan, 2013. http://www.palgraveconnect.com/doifinder/10.1057/9781137033383.
O'Byrne, Ian, W., Verena Roberts, Randy LaBonte, and Lee Graham. "Teaching, Learning, and Sharing Openly Online." Journal of Adolescent & Adult Literacy 58, no. 4 (December 1, 2014): 277–80. doi:10.1002/jaal.365.
Wiley, David, and Seth Gurrell. "A Decade of Development…." Open Learning: The Journal of Open, Distance and E-Learning 24, no. 1 (February 1, 2009): 11–21. doi:10.1080/02680510802627746.
Hylen, Jan. "Why Give Away Knowledge for Free? The Case for Open Educational Resources." Technology Innovation Management Review. August 2008(2008).
Photo credits:
Photo credit: Photo remixed with Is licensing really the most important question for OER?, created on December 22, 2011 by opensource.com. Image made available under Creative Commons 2.0 Generic License. Created on March 5, 2015.
Photo Credit: OpenCourseWare All Grown Up, created on May 24, 2011 by opensource.com. Image made available under Creative Commons 2.0 Generic License. Last viewed on March 5, 2015.