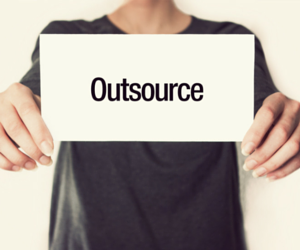 Work smarter, not harder! You already know that entrepreneurs are go-getters; on any given day these Jack-of-All-Trades' job titles could be accountant, customer service rep, therapist, motivational speaker or IT specialist. So, what time is left to actually, you know, do business?Nobody can do it all themselves, and trying to keep on top of everything can lead to burnout. By using business-to-business (B2B) companies that are specifically designed to pick up slack from entrepreneurs, you can outsource parts of your business while focusing on the elements that are important to you. 
Why Outsource?
If time is money, than it's wise to enlist the help of professionals whose expertise can make your business run smoother and more efficiently, so you have time to do what you do best, grow your venture. Both digitally and in your community, using business-to-business companies can help you run your startup like clockwork while supporting your fellow local business owners and building a network. Take a look at the ways you can outsource your business, you might be amazed at the resources you can find in your own backyard.
Payroll and Accounting
This is a major area to consider when thinking about outsourcing. During tax season, a CPA can make sure you're getting a fair shake and you'll feel better knowing that someone has your back.  For payroll, using a company ensures that your employees are getting paid on time, every time, and will even pay them using direct deposit. 
Legal Advice
This is an area that can cost you more money in the long run through mistakes than the fees associated with legal advice. Having a lawyers advice is particularly helpful for registering and incorporating your business so you understand your rights and responsibilities.   Check out our Legal Assistance guide to find resources and help you navigate the legal waters.
Administrative Tasks
Virtual assistants can be a lifesaver to the entrepreneur who is bogged down by the daily nitty-gritty.  A virtual assistant is someone who works either through freelance or through a firm completing  tasks that normally an in-house administrative assistant would take charge of.  Through phone calls, Skype or email, virtual assistants can help with jobs like meeting and document preparation, customer service queries and travel arrangements. Virtual assistants are a cost effective way to get help with daily operations or overflow work, and you can hire them only for the amount of time or tasks to be done in a certain period. While nothing can replace having a person in-house to run everything smoothly, this could be perfect for a micro-business or a startup where there are a limited amount of funds, office space or hands to pitch in. Companies like Canadian Virtual Gurus and the Canadian Association of Virtual Assistants  have listings of virtual assistants for almost any office task you can think of.
Don't reinvent the wheel! Remember that there are a plethora of services available to help entrepreneurs and small business owners for free or low cost. Make sure to check out our Business E-Tools page for more ways to grow your business.
---
REFERENCES:
ADP. The Small Business Guide to Outsourcing. Toronto: ADP, 2008. Print."Business To Business (B To B) Definition | Investopedia." Investopedia. N.p., 25 Nov. 2003. Web. 10 Aug. 2015.Jackson, Nancy Mann. "How to Build a Better Business with Outsourcing." Entrepreneur. N.p., 15 Jan. 2010. Web. 10 Aug. 2015."Outsourcing To Prevent Small Business Owner Burnout." Outsourcing To Prevent Small Business Owner Burnout. Aspire.ca, 10 July 2015. Web. 10 Aug. 2015.Patricio, Andrew. "5 Things You Might Outsource for Your Business." Pitney Bowes Canada Blog. N.p., 24 June 2015. Web. 10 Aug. 2015.Shore, Jeff. "5 Time-Consuming Tasks Small-Business Owners Should Outsource." Entrepreneur. N.p., 08 Oct. 2014. Web. 10 Aug. 2015.